Feel the Vibrations at Kate King Jewellery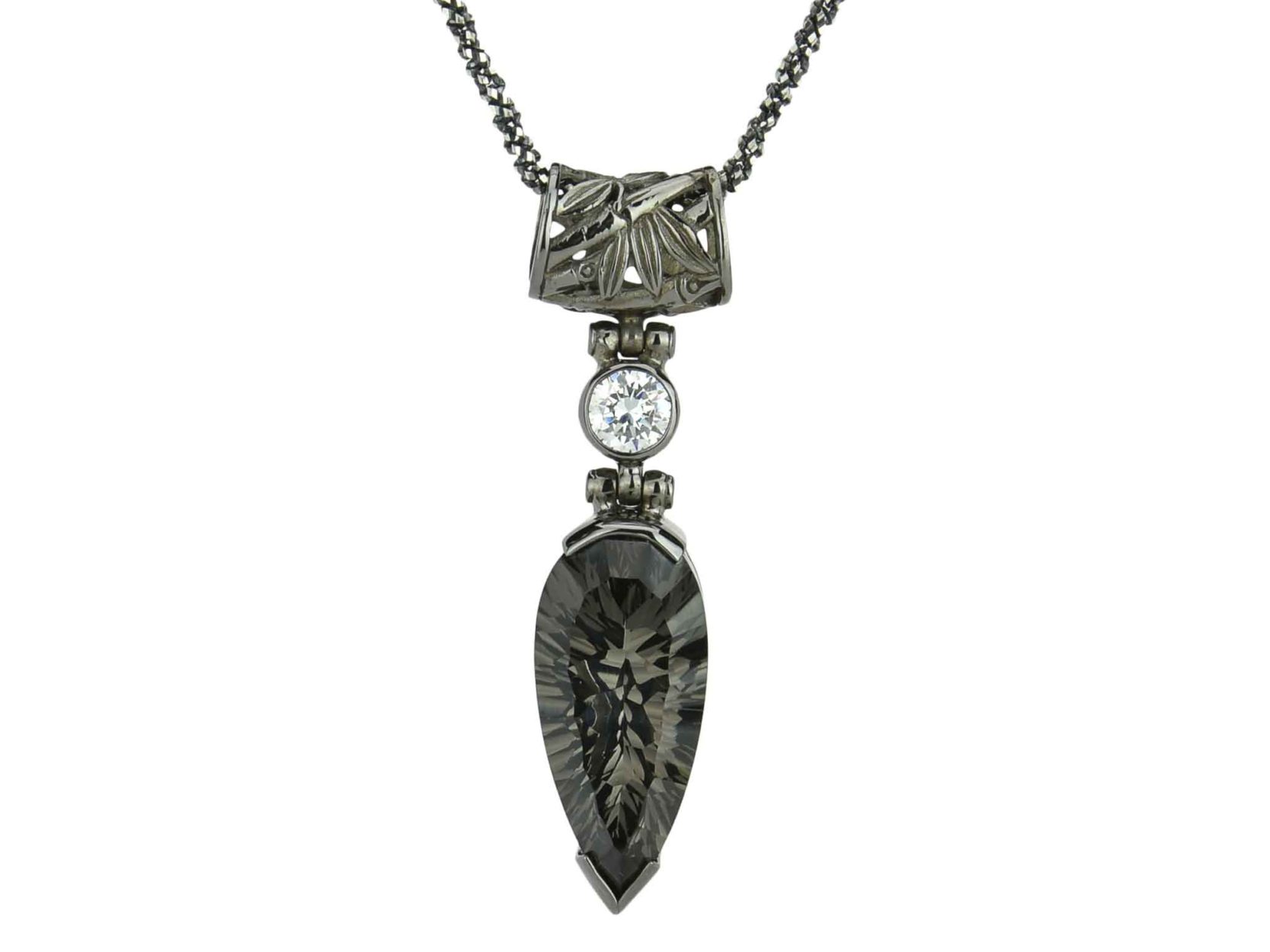 Midnight Mystic Quartz with Diamond Stimulant
Kate King Jewellery is a relatively new store in Cascade Shops that sells all sorts of items with vibrational frequencies designed to enhance your wellbeing. Don't have a clue what vibrational frequencies are? Neither did I. Manager Leigh Ann Betts and the wonderful staff at Kate King Jewellery were more than happy to explain how it all works.
Just walking into the store seems to pick you up. The place has an upbeat yet welcoming feel that inspires confidence. "The store only carries items that have frequencies," explained Leigh Ann, "People like to come here and hang out because it's such a high frequency place. It makes them feel better."
Leigh Ann is a life coach who found the vibrational jewellery at Kate King accentuated her teachings. She was very excited to take on managing the store. Leigh Ann has introduced many of her clients to vibrational jewellery and has reported great success. "Our mission here is to help people experience the benefits of vibrational frequencies and leave empowered with more love and beauty and less hardship."
So here's how it works: according to quantum physics, everything in the universe vibrates, including us. Certain substances have stronger vibrational frequencies than others, and those frequencies can be affected by surrounding elements. Substances that are more malleable will sync their vibrations with solid substances. Water is one of the most malleable substances on the planet, and as humans, we are largely made of water. Wearing something solid such as a gemstone that vibrates at a specific frequency can allow us to harmonize our own personal vibrations to that frequency.
It's not actually about picking a pretty stone to wear. Just as we are able to harmonize our frequencies for the better, we can also harmonize our frequencies for the worse and leave ourselves feeling down and disconnected with the world around us. Certain people require certain frequencies and different stones can affect different aspects of your personal wellbeing.
We started with a Vibrational Analysis, which allows the staff to determine your personal vibrational signature. This is a unique process developed by Kate herself for KAte King Jewellery. It provides an acute reading of a person as an individual. My personal vibrational signature was Earth/Wind, which means I have two opposing forces that need to find balance with each other.
From there, a few more questions about what you want to improve in your life will give the staff enough direction to select stones that match your profile and your desires. The stones they recommended for me were either Fire or Storm, depending on what energies I wanted to enhance. Everything from the composition of the stones to the material used in the chains that hold them around your neck has a specific purpose, and all the elements work together to enhance your personal vibrations.
Then I got to try on some of the jewels selected for me. Without looking in the mirror, I had a chance to assess the stones by feel. This way, Leigh Ann explained, you aren't drawn to something that doesn't work for you, just because you think it's pretty. "I always do this process by feel so people really get a sense of what it's about. Afterwards, we'll look in the mirror and you can see the gemstone that works best for you."
Each stone brings a different vibrational frequency to the table. Some of them will make you feel grounded, some will give you crazy energy, some will pick you up in ways you didn't see coming, and some will balance everything out and make you feel like a million bucks. It's a little bit like Goldilocks and the 3 bears: you need to find the one that's just right for you.
For me, it was the Midnight Mystic Quartz with a Diamond Stimulant. Both of these Storm elements have a grounding effect, without being so heavy as to limit creativity. They give the energy to face whatever the day has in store. Even the shape of the pendant enhances its grounding properties, as Leigh Ann explained when I finally saw it in the mirror.
Overall, visiting Kate King Jewellery in Banff was a fun and informative experience. Whether you're looking specifically for vibrational jewellery to enhance your personal wellbeing, or you're just interested in the unique construction of the stones, stop in and talk to the amazing staff. If jewellery isn't your thing, they also sell books, water bottles, essential oils and so many other artifacts designed to enhance your state of mind.
Even if you've never heard of vibrational frequencies before, the staff at Kate King Jewellery will walk you through the whole process and will gladly answer any questions you may have. Bring your friends or your family and feel the good vibrations at Kate King Jewellery.