Canadian Rockies Canada Day Celebrations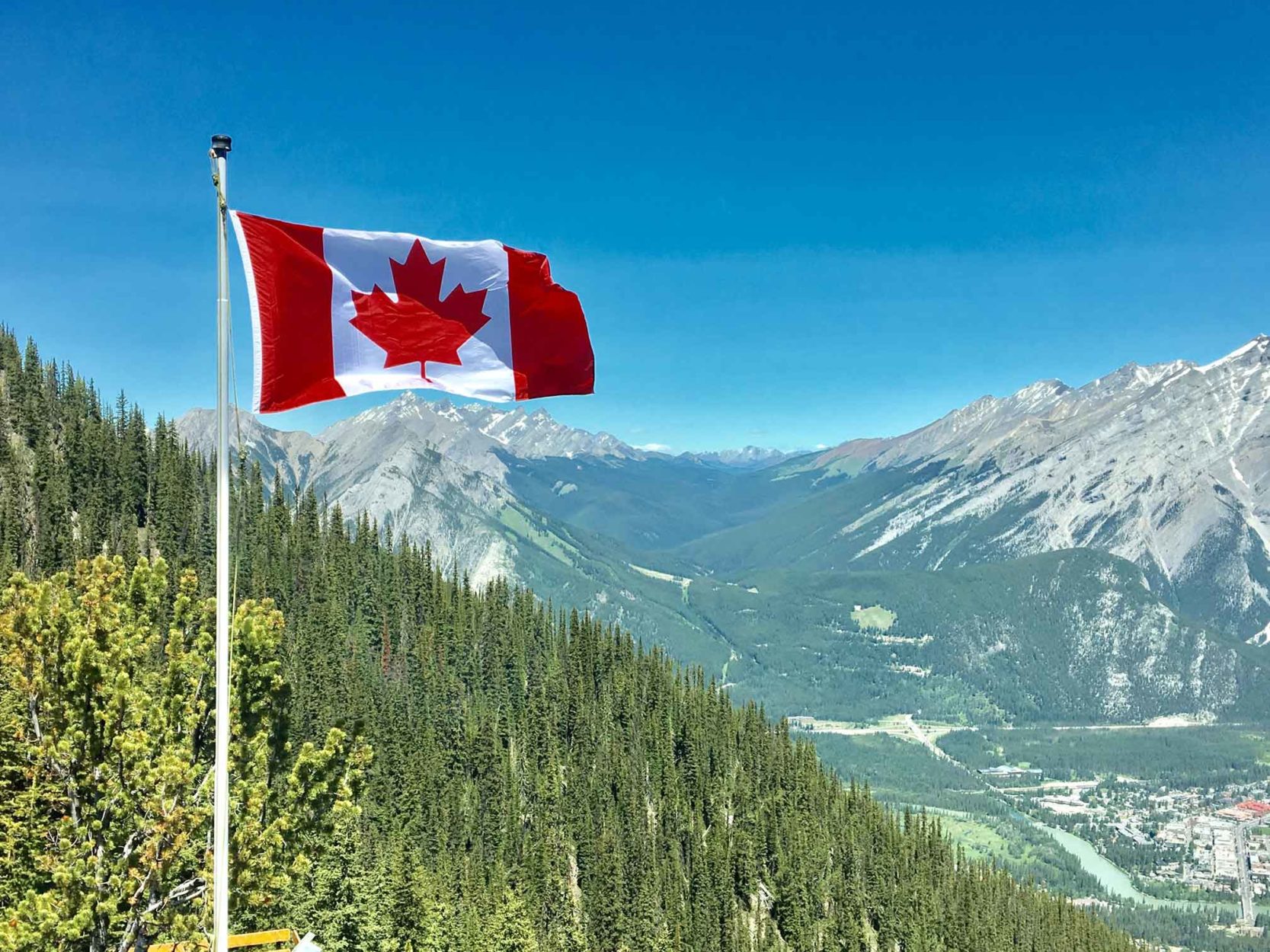 Canada Day offers an exceptional opportunity to experience the multifaceted culture of Canada in all its splendor. Canadian Rockies Canada Day Celebrations are happening all over the mountains and we have complied a schedule of events with the most accurate information for Canada Day festivities happening in Banff, Canmore, Lake Louise and Jasper.
The Town of Banff
What could be a better place to celebrate Canada Day than Banff National Park? For the best possible experience, take Roam Public Transit for your trip to Banff. Visit roamtranist.ca for more information. If you are driving, you can find parking at banffparking.ca, but expect delays due to holiday crowds and road closures.
To start your day, participate in creating sidewalk art outside the Whyte Museum from 9 to 11 am. There will also be live music by Gary Gonis at 9 am followed by Entangled Puppetry at 9:40 am and the smooth vocals and ukulele of Heather Jean Jordan at 10:20 am.
From 10 am to 7 pm there will be Canada Day Public Market in Central Park. Here you can purchase unique art, crafts and food from over 50 vendors!
Canada Day is a special occasion where the town closes iconic Banff Avenue for the Canada Day Parade. The spectacle runs from 11:30 am to 12:30 pm, so be sure to get your seat!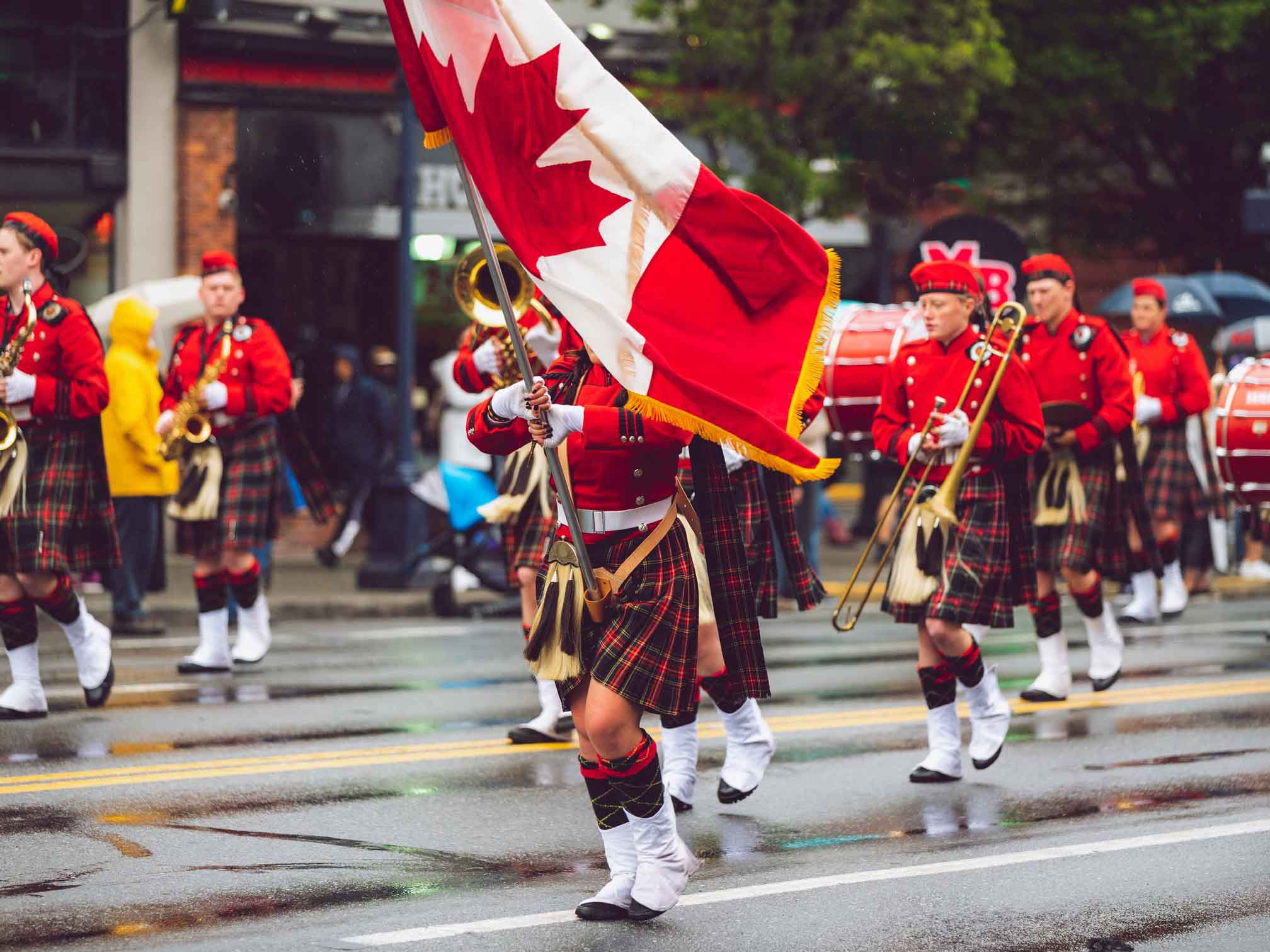 From 12:30 until 5 pm you can enjoy all sorts of family friendly activities at the Family Fun Zone at the Banff High School. You can see the magician Steve Harmer, Polish dancers, and the multitalented Isabelle la Wonderful from 12:30 to 4:30 pm. Enjoy their 4 inflatable bouncy castles, Indigenous storytelling with Treffrey Deerfoot, roving puppet entertainment, and old-fashioned fun and games while you're there!
Live music and entertainment will be happening all day at the Central Park Gazebo from 1 to 5:30 pm, and again at 7 to 10:45 pm. Catch afternoon acts like Swanee + Charlie B, the Wataga Singers and Dancers, and Brad Brewer. Acts like the Charlie B Project, Alanna J. Brown and The Steadies rock the stage in the evening.
The dazzling pyrotechnics display will close out the festivities at 10:45 pm.
The Cave and Basin and Banff Park Museum will be offering free admission from 9:30 am to 5 pm. The Luxton House Museum is providing tours from 10 am to 4 pm. Also, check out Minu Bhatia's Act of Love: a 20' X 40' crocheted Canadian flag at Central Park.
You can also enjoy other activities like hiking Tunnel Mountain, visiting the Cascade Time Garden or walking the Fenlands Trail.
The day will be packed with fun and excitement, but keep in mind all of these events are subject to change. If you need help finding your way, the town has an interactive map at Banff.ca/canadaday or you can pick up an RMV map at hotels and restaurants all over Banff.
 The Town of Canmore
Canmore will be doing Canada Day Celebrations a little differently from past years.
Begin the festivities with a free pancake breakfast from 8 to 11 am at Centennial Park, hosted by the Rotary Club of Canmore and the Calgary Stampede.
Work up an appetite for those pancakes at the Canada Day fun run at 9 am in Centennial Park. Cheer people on while they do their 3, 5 and 10 km runs. There will also be awards to the top finishers in the race.
There will be a Canadian Mountain Made Market at the Canmore Civic Centre running all day from 9 am to 4 pm with locally made art, crafts and food.
The Canada Day Parade begins at noon at the corner of Fairholme Drive and 15th Street and continues all the way down Main Street and Railway Avenue. The theme of this year's parade is CAMP so come and see the creative floats made by local Canmore businesses.
After the parade you can watch extra marching band performances at Centennial Park from 1:30 to 2:30 pm.
The post-parade activities have been moved to Main Street this year! From 1:30 to 4:30 pm you can enjoy the family friendly fun zone and all kinds of sidewalk sales.
It wouldn't be a birthday party without cake! At 2:30 pm there will be cake cutting along with the parade float ribbon awards happening on 6th Avenue and Main Street.
There will be live music performances on Main Street as well! The Depayses, a local French-Canadian Band, will play from 2:30 to 4 pm. The 1776 Dixieland Band will get you moving from 3 to 4:30 pm. Brad Bischoff will round out the Main Street performances from 3 to 4:30 pm.
That evening you can see more live music at the Civic Centre! The Suzie Q Dance Band starts the show at 6:30 pm. The Bow Valley Line Dancers will take the stage at 7:30 pm while The Critters rock the night away starting at 8 pm.
To cap the night off, the Canada Day fireworks are at 10:30 pm! You can catch this marvellous firework display at Millennium Park. Be aware that fire bans can potentially cancel this event.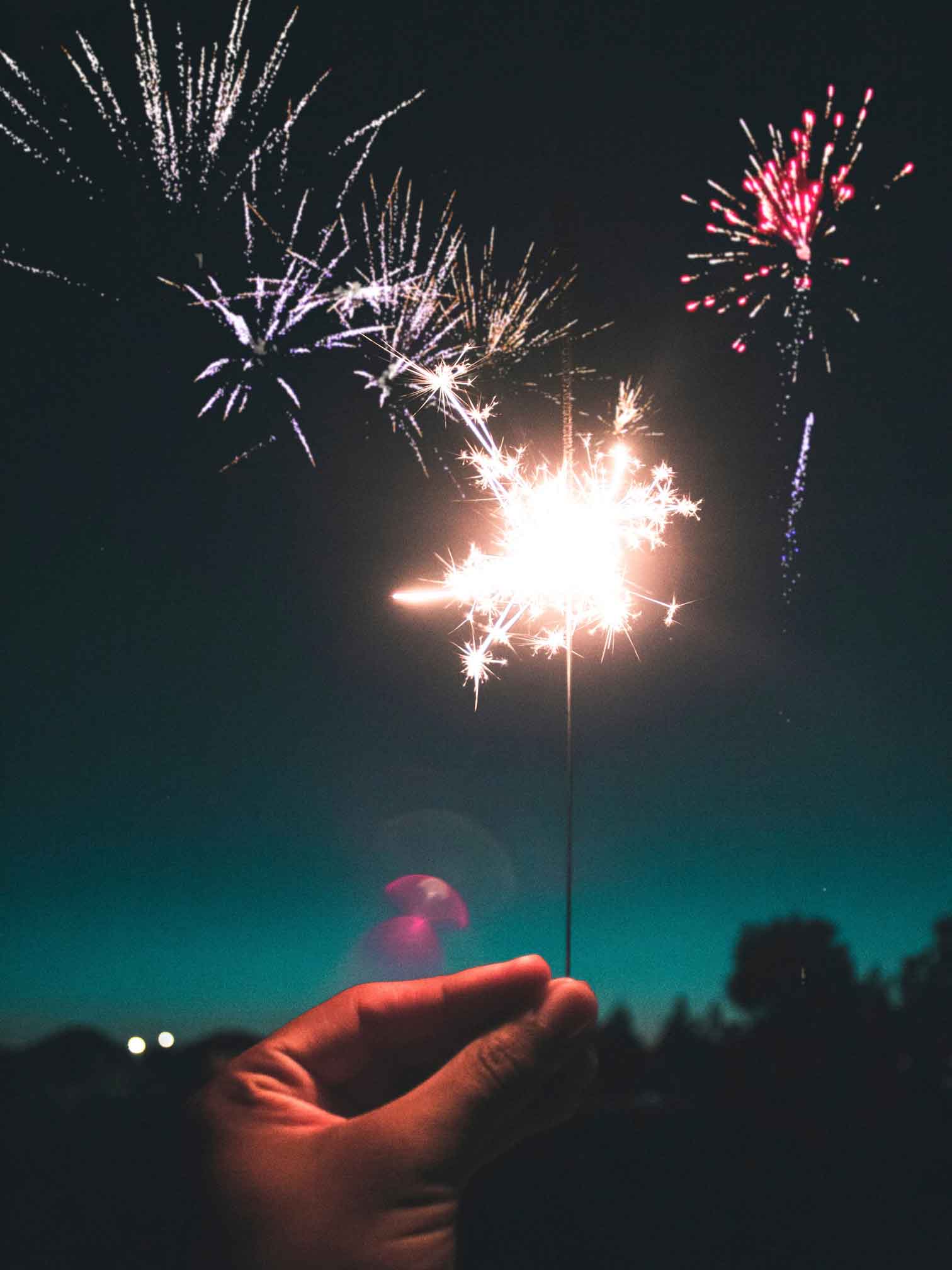 The Village of Lake Louise
Famous Lake Louise has its own set of Canada Day activities this year. There will be an annual pancake breakfast put on by the Lake Louise Fire Department.
The Lake Louise recreation Centre will be hosting a plethora of games, performances and activities along with a BBQ Lunch.
There will also be a Canada Day Parade that will make its way down Village Road.
If you're a guest at the Chateau, they have a whole program of events going on all day!
There will be a lakeside flag raising ceremony with the RCMP from 9 to 9:15 am. At 11:30 am you can participate in a Lake Louise Tradition of the Polar Bear Dip and submerge yourself in the icy waters of the lake. A cake cutting ceremony will take place at 4 pm, afterwards guests can enjoy a special Discover Lake Louise presentation at 4:30 pm. That evening you can enjoy a screening of the Lego Movie 2 at 7 pm, an evening campfire from 8:15 pm or a the Lakefront gas campfire that burns from 7 until 11 pm.
The Lake Louise Summer Gondola is where can you get amazing views, they are also offering free viewings of their wild life displays for Canada Day. Free birthday cake will also be served at the Bear's Den Smokehouse at 12 pm. Caesars, Canada's signature drink, are only $5, which you can enjoy while listening to a performance by Alanna J Brown.
The Town of Jasper
Gorgeous Jasper has its own set of fun community events to celebrate Canada Day.
From 8:30 to 10:30 am they will host a pancake breakfast in Centennial Park for $5 a person. Kids under 5 eat free. There will be food ware available, but you're encouraged to bring your own to help make this a zero-waste event!
From 11 am until noon you can watch a flag raising ceremony at the Jasper Information Centre and enjoy free birthday cake!
Jasper's Canada Day Parade will take place between 1 and 2 pm. The parade runs all through downtown Jasper. Note that there will be no parking in the area between 11 am and 2 pm.
Friends of Jasper National Park will be giving a free Historical Walk around town at 2:30 pm and again at 7:30 pm.
The Party in the Park will run from 1:30 until 11 pm at Centennial Park! There will be an all-day BBQ, family fun activities from 2 to 4 pm, live music and entertainment as well as a Beer Garden that will be open from 5 to 11 pm.    
Unfortunately, due to safety concerns, the Fireworks Display will be cancelled this year.
Why not celebrate Canada Day surrounded by the most beautiful scenery Canada has to offer in the Canadian Rockies! A special thanks goes to all the volunteers and sponsors who make Canada Day in the Canadian Rockies possible. Thank you all.
Happy Canada Day!