13 Places for Canadian Rockies Indigenous Art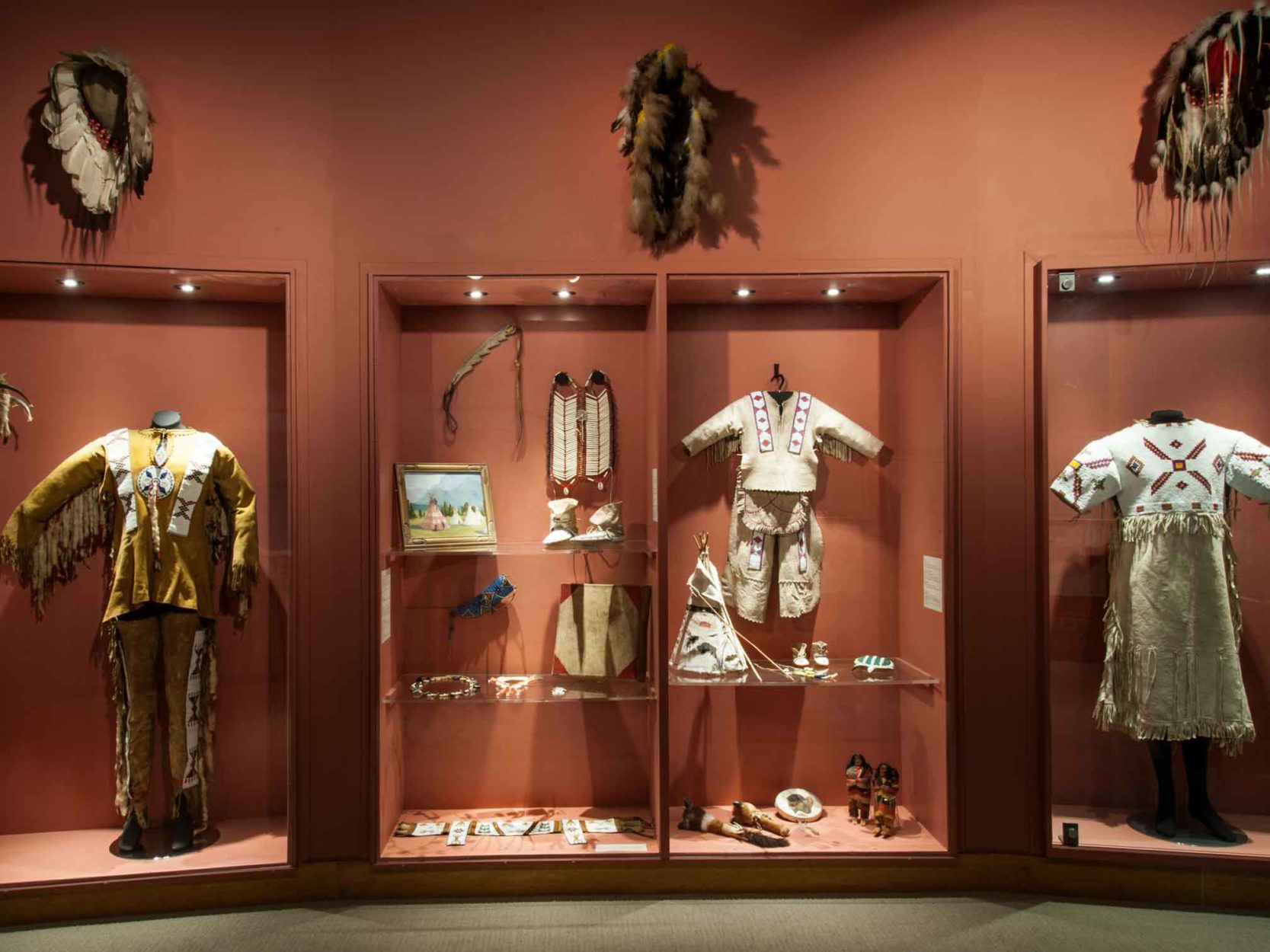 Photo Courtesy of the Whyte Museum
June 21 is National Indigenous Peoples Day! In celebration of all our First Nations friends, we have created a list of places for authentic Indigenous culture experiences and art in the Canadian Rockies.
1. The Banff Iiniskim Powwow
The Banff Iiniskim Powwow takes place at the Fenlands Recreation Centre on June 22. The Powwow was the vision of Elder Tom Crane Bear, Banff resident and Banff Centre teacher. The Powwow Committee and the Buffalo Nations Museum organize this annual event. There will be authentic regalia, dance competitions, and social dances along with singing and drumming. The Powwow will also be led by top event coordinators and announcers. Be sure to explore their market where you can buy handcrafted items you can't find anywhere else. Everyone is welcome to take part and learn!
2. Our Native Land
The Shuurmans family are the owners of Our Native Land in Jasper. They have infused their love for collecting First Nations artwork and interacting with artists in their family store since 1996. Harry Shuurmans describes the store as "a source of authentic First Nations art and a collection of natural history pieces, fine art and crafts."  The Shuurmans were also directly responsible for bringing the Den Wildlife Museum to the Whistler's Inn basement. Joe, Harry Shuurmans' father, felt "the museum should stay in Canada" for educational purposes. As a result, he decided to buy the taxidermies to keep them from being sold to the United States. The Den Museum still resides in Jasper to this day.
3. Lifeways
As an enterprise designed to foster reconciliation, Lifeways provides connection to the local Indigenous population through artwork and workshops. Here you can find authentic beadwork, jewellery, dream catchers, whistles, flutes and so much more. Lifeways plans its events with Stoney Nakoda First Nations artisans in keeping with the community's ways and priorities. Engage with the community and learn traditional craftwork with workshops such as their make-your-own-dreamcatcher workshop, led by local Nakoda artisans.
4. Buffalo Nations Museum
One of Banff's hidden gems. Here you can experience Indigenous art and storytelling firsthand. The Buffalo Nations Museum frequently offers guided tours with local First Nations elders. Each artifact in this museum has a story that accompanies it. You can also purchase high quality, authentic Indigenous artwork and apparel in their gift shop. We got a first-hand experience on one of their guided tours
5. Whyte Museum
Peter and Catharine Whyte were deeply involved with the Indigenous communities around Banff in their day. They were fortunate enough to be allowed entrance into their camps to paint portraits of local chiefs and images of their daily life. By fostering these relationships, they acquired many Indigenous artifacts and artwork, which are displayed in the Heritage Gallery of the Whyte Museum. The museum also frequently puts on events featuring Indigenous activists, filmmakers and artists. There are also authentically produced Indigenous items for sale in their gift shop.
6. The Banff Centre for Arts and Creativity
The biggest cultural hub in Banff National Park is always providing exposure for Indigenous artists. Every show at the Banff Centre acknowledges that they are on Treaty 7 territory to recognize the First Nations people who held the land before Confederacy. All through the month of June, they will be hosting workshops, presentations and performances that spotlight Indigenous art and artists.
7. Canada House Gallery
As one of Banff's premier art galleries Canada House Gallery offers a wide variety of Indigenous artwork. From paintings by eminent first nations artists, including sculpture and Inuit artwork, there is a wonderful collection on display here. Purchase a piece for yourself so you can always admire the beauty of original artwork. On June 21 they will be unveiling a new art collection created Ojibway artist Terry McCue.
8. Stoney Nakoda Resort and Casino
Aptly named Basecamp of the Rockies, The Stoney Nakoda Resort and Casino sits at the beginning of the journey into the Canadian Rockies. This resort acts as a cultural hub of its own with shows and presentations in their Chill Showroom. They also offer specialized helicopter tours provided by Alpine Helicopters. These tours will take you up to view the artful landscape of the Canadian Rockies while teaching you about the Stoney Nakoda names and places in these famous mountains.
9. artsPlace
artsPlace will be hosting presentations of First Nations art and artistry during the month of June. For more opportunities to see Indigenous culture catch the Festival of Arts and Creativity! This Canmore-wide celebration takes place during Alberta Culture Days on September 28 and 29. The artsPlace campfire kickoff party, often features local musicians as well as First Nations dancers, drummers and story tellers. Enjoyt a community market with handmade crafts and lots of free drop-in workshops and events for the whole family!
10. Samson Native Gallery
The Samson Native Gallery is located in the Lake Louise Samson Mall. Since 2012 this gallery has displayed artwork and sculpture from well-known First Nations artists. Pieces on display include paintings, sculptures, prints and authentic handcrafted jewellery. You can also purchase Indigenous clothing and accessories like mukluks and blankets at this unique store.
11. The Art of Man Gallery
The Art of Man Gallery of Alberta is located in the Chateau Lake Louise. As an extension of the original gallery in Victoria, British Columbia, this gallery is a purveyor of artwork from Haida Gwaii as well as work from Inuit, Iroquois and Cree artisans.
12. Pictographs in Grotto Canyon
If you're up for a bit of adventure when looking for Indigenous Art in the Canadian Rockies, you can visit the ancient pictographs in Grotto Canyon. This is a nice hike along a riverbed that will lead you to ancient pictographs that are over a thousand years old. These are said to be painted by the Hopi First Nations from northern Arizona.
13. The Cave and Basin National Historic Site
Thousands of years before the railway the Cave and Basin was a gathering place for First Nations people. The McCardell brothers who 'discovered' the location of the thermal waters were commemorated in a famous painting housed in the Cave and Basin Historical Site. The significance of the First Nations' knowledge of the waters was largely overlooked until 2013. Artist and elder Rolland Rollinmud was commissioned to create a portrait of First Nations People 'taking in the waters.' That portrait hangs next to the McCardell painting in the Cave and Basin National Historic Site.
If you love Canadian Rockies Indigenous art and want more cultural experiences in the mountains, you can check out our list of other events and places.