Night Tubing at Mt Norquay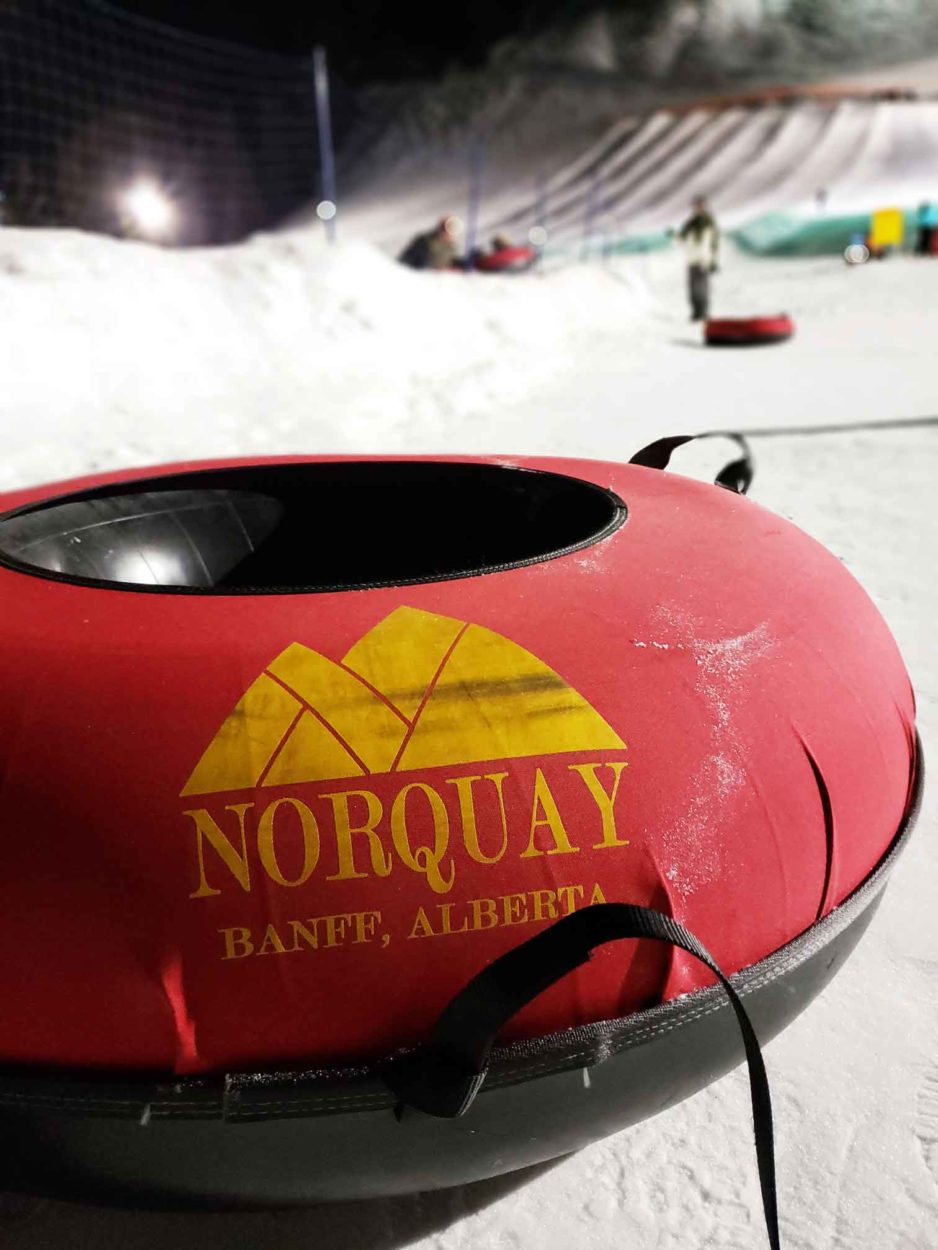 We wanted something fun and exciting to do on a Friday night, so we tried night tubing at Mt Norquay. To be honest, we weren't really sure what to expect. It's a short drive to Mt Norquay Ski Resort from the town of Banff, and the friendly resort offers night skiing and snow tubing on Fridays and Saturdays.
We arrived at the ski area and checked in. The runs were bright from the floodlights and there were tunes pumpin' from an old catski parked beside the tubing lanes. Nearby, skiers got in some evening runs after the sun went down. They also showed off their skills on jumps under the lights. The whole atmosphere was relaxed and fun, exactly what you want on a Friday evening!
For those who have never been tubing, the concept is very simple: you grab a giant, inflated tube and ride a magic carpet lift to the top of the tube park. Then you have a laugh as you slide down the chute! We could go down the run together or individually. We did our first run conjoined, getting a sense for what this experience was all about. Our first impression: WOW that was fast! We ended our run laughing and snowy from spinning around and around through the chute.
On our way back up the magic carpet, I saw somebody doing a fast spin – starting out in a starfish position then tucking into a fetal pose at the opportune moment as the tube spun. "I want to do THAT!" I said, feeling the excitement build. So I ditched my partner for a solo run down the lane spinning as fast as I could. The run scrambled my brains. I had to sit on the edge of my tube for a moment to gather my wits before standing up. It was so much fun!
I got really good at the fast spin. There's a specific time when you have to "Tuck!" and although the person spinning you tells you the best time, you learn to feel it. You also learn how to tuck with the g-forces pulling your limbs in different directions. What's more, you have to make sure you're not touching the bottom of the tube – this creates traction and slows you down. There's a surprising amount of physics involved in accomplishing the fastest run down the tube chute!
We stopped for a sugar break halfway through the night. Hot chocolate and candy bars – perfect! After our warm up, we returned for more great runs and more laughter.
Tubing is a great way to spend time with friends and family, or to just enjoy the fresh mountain air on a snow covered hill. The snow tube park at Mt Norquay offers family-friendly tubing throughout the ski season. It is quickly gaining popularity in the Canadian Rockies, and after trying it for the first time, I can clearly see why!
This experience was hilarious, high speed fun. If you're looking for something fast and easy to top off your day, try night tubing at Norquay. It's just minutes from the town of Banff, it's fast and it's way more fun than you expect!