Spotted on the Cover! Fatbiking in the Canadian Rockies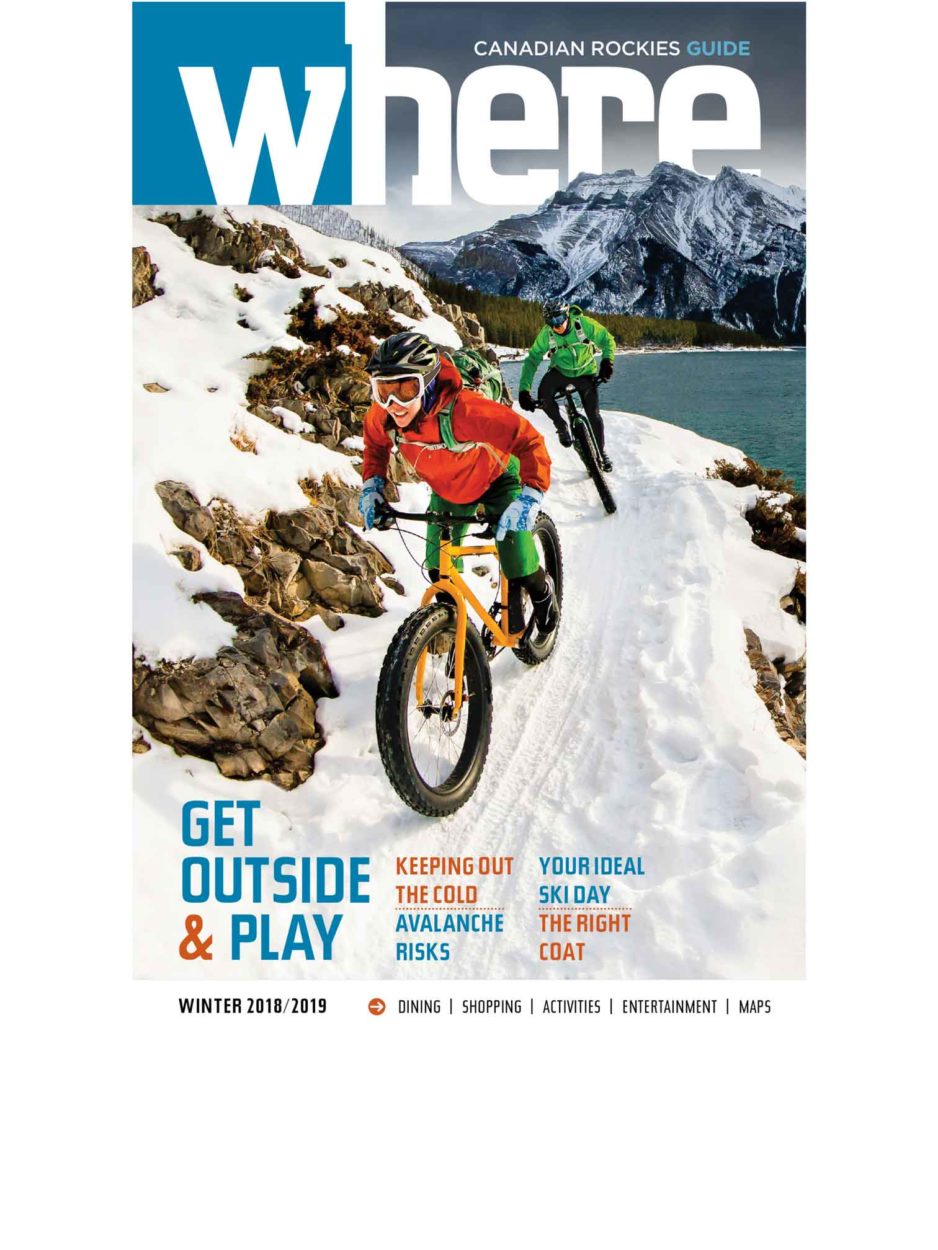 Are you ready to try fatbiking? Spotted on the cover of our 2018/19 Where Magazine winter cover is an homage to the sport that is taking the mountains by storm. If you haven't tried it yet, we think you should. We hear nothing but great reviews!
Rent a fatbike for a day and you'll be hooked! There are endless trails in the Canadian Rockies for biking in the snow. Outfitters offer guided trips and ride nights for a true sample of the sport. Fatbiking allows access to mountain biking trails for winter riding and it's an excellent way to get outside and play this winter.
Our cover features avid local mountain bikers Louis-Julien Roy and Heather Cleveland at Lake Minnewanka in Banff.
I spoke with Louis about this photo, and he told me that they go to Lake Minnewanka quite a bit. "It's such a good place to ride and we try to go once or twice a year." It's fun to ride there in any season, but it regularly closes in the summer because it is a popular area for foraging bears. Fatbiking opens up the terrain when the bears are hibernating, making it a great way to experience the outdoors.
Louis says that biking is their main sport – both as a couple and on their own time. Fatbiking makes biking terrain available almost any time of year. "You come into the summer much fitter!" he laughs. This photo was taken when they were just starting to ride fatbikes, but since then they have become regular enthusiasts. Louis says "Today, fatbiking still has that 'new feel' about it, but now it's a thing. People are already shopping for their second bike or a higher performance bike. They know it's here to stay and the technology has really increased quickly."
This picture showcases Lake Minnewanka in the early winter, before it freezes. It was one of the first runs of the year on their fatbikes. The Rocky Mountains are filled with easy access trails that accommodate the extra wide tires of these specialty bikes. Be sure to pick up a copy of the magazine for more information about the sport, available trails in the mountains and everything else you need to plan your ideal winter vacation!
Also, be sure to check in on Louis and Heather at Moutainx/.