Hanging in There with Aerial Yoga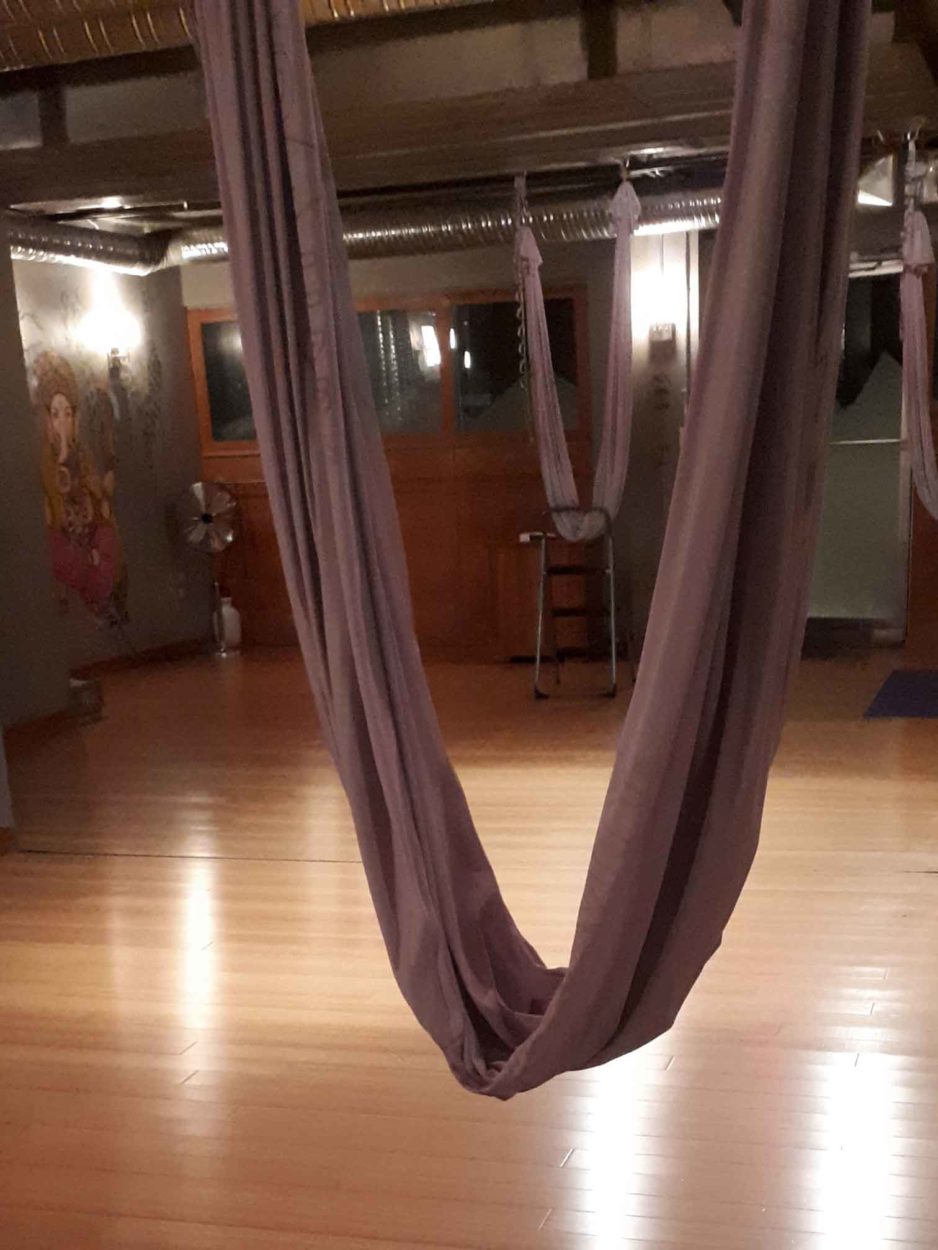 Full disclosure: I'm one of those people. You know the ones. We get up at 6 am and workout before starting the day and we're constantly talk about how great we feel because we partake in this insanity. I'm not sorry.
So, when I signed up for a 7 am core aerial yoga class from Canmore Hot Yoga, no one batted an eye. They rolled their eyes, but hey: I feel great.
The first question I had after agreeing to this was: what is aerial yoga? I'm pretty sure I can handle yoga but whenever I try to fly, I usually fall to the ground. Fortunately, the class required no flying. Aerial yoga actually involves a hammock suspended over a yoga mat.
You use the hammock to assist with different poses. It allows you to hang in different positions, so you can stretch in ways you simply can't on a mat. You can feel your spine stretch and unwind as you relax into poses with greater flexibility. It wasn't all relaxation and stretches, however. Our instructor had us working our core and isolating muscles for burnouts. It may not have been as high intensity as I usually do, but I could feel the burn! I appreciated taking the time to really focus on the muscles as they worked.
The hammock allows gravity to assist in achieving each pose. I loosened up quickly after a few warm up exercises. I could also reach into positions with newfound strength and flexibility. This wasn't just an improvement that happened during class. I felt the muscles I had isolated working properly for the rest of the day.
It also left me feeling energized. I had opened up and used my body in a way that aligned my posture. This meant I could use my body to my advantage, even when sitting at my desk all day. I also reached a place of calm that allowed my brain to stop racing. I found my ability to appreciate the moment. This wasn't something specifically covered in the class, but I found I automatically arrived at this point.
In addition to aerial yoga, Canmore Hot Yoga is known for, well, hot yoga. This practice takes place in a room heated to 35-40 degrees. The heat helps muscles relax so they can safely stretch further. With proper form and breathing, the heat allows you to work deeper into a stretch in a shorter amount of time. The aerial class I tried didn't have a heated room – because hey, we were working hard enough! – but I definitely want to return to try a hot yoga session. I'm curious if I will feel effects similar to the aerial class.
Whether you're a local Canmorite or a visitor passing through, try a drop-in class at Canmore Hot Yoga. If it's your first time, the friendly instructors will make you feel welcome. They are more than happy to assist and answer any questions. Before your next big adventure, take some time, relax and refresh with Canmore Hot Yoga.