Grizzly House: An Iconic Banff Restaurant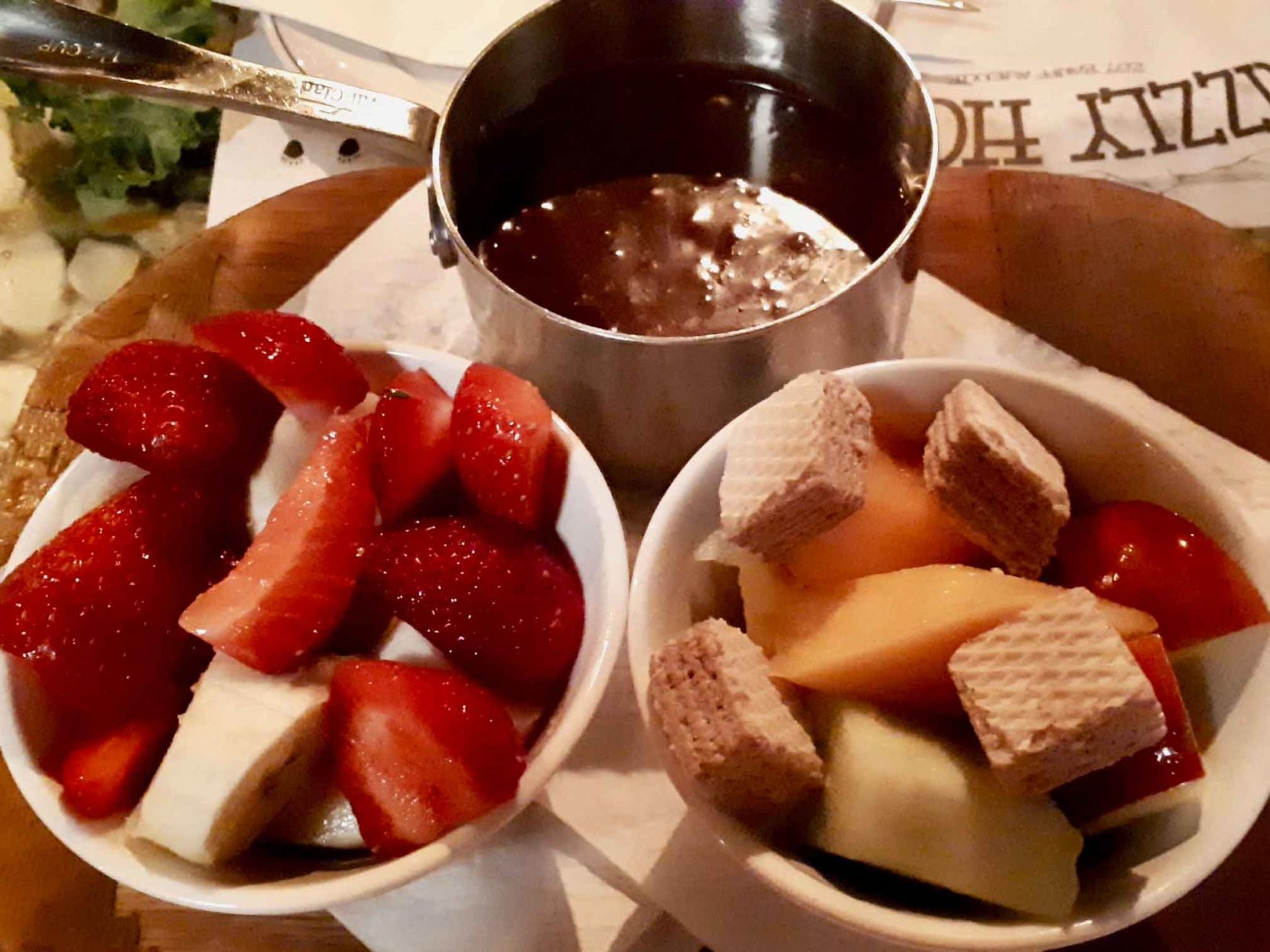 For lovers and hedonists. Grizzly House is an iconic Banff restaurant that delights visitors and locals alike. This family-run establishment on Banff Avenue was started in 1967 by Barbara and Peter Steiner as a disco with touring bands and go-go dancers. The owners had to find a way to sell food to retain their liquor license. The neighbouring Chinese restaurant was willing to sell their food next door, and a convenient hole in the wall allowed the two establishments to pass food through and work together in the Banff nightlife scene.
When the Chinese restaurant closed, the Steiners had to figure out another way to serve food to their growing customer base. Being of Swiss heritage, the Steiners and their staff brought in their own personal fondues, and the tradition began. Grizzly House became popular for delighting visitors with a quality dining experience with a taste of the traditional, and the exotic.
Now, the Steiners' daughter, Brigitte, carries on the family business with her husband, Francis. Far from it's disco roots, the restaurant is still famous for its food and its friendly atmosphere. Certain features of its heritage remain, including classic decor like totem poles and buffalo heads, a hanging disco ball and DJ stand, and working phones at each table. Want to make some new friends? Pick up the phone and give someone a call!
And the food! Using oil fondues or hot rocks, Grizzly House serves classics like alberta beef, buffalo, wild boar and wild game meat. They also have more exotic meats including ostrich, rattlesnake, kangaroo and shark. Their classic cheese fondue and dessert chocolate fondue options delight everyone using quality Swiss ingredients.
Can't decide what you'd like to try? Indulge in the Complete Fondue Dinner. This 4-course signature dish includes all famous fondue dishes such as cheese, your choice of meats and seafood, and chocolate fondue dessert. I tried it, and I loved it so much I went back again! read more about this fantastic dining experience.
Grizzly House is also open for lunch! They feature a specialty lunch menu with unique specialty items offered every day. The full dinner menu is also available at lunch, for those with ravenous appetites mid-day.
A visit to Banff National Park is not complete without a trip to the iconic Grizzly House restaurant. In the winter, relax in their cozy dining area surrounded by history. In the summer, catch some sunshine on their sidewalk patio and enjoy the hustle and bustle of downtown Banff with a backdrop of stunning mountain views. Don't forget to bring your appetite: Grizzly House will leave you filled to the brim, but wanting to come back for more! Be prepared for this unique atmosphere and delicious dining experience like no other!