A Modern Castle Fit for a King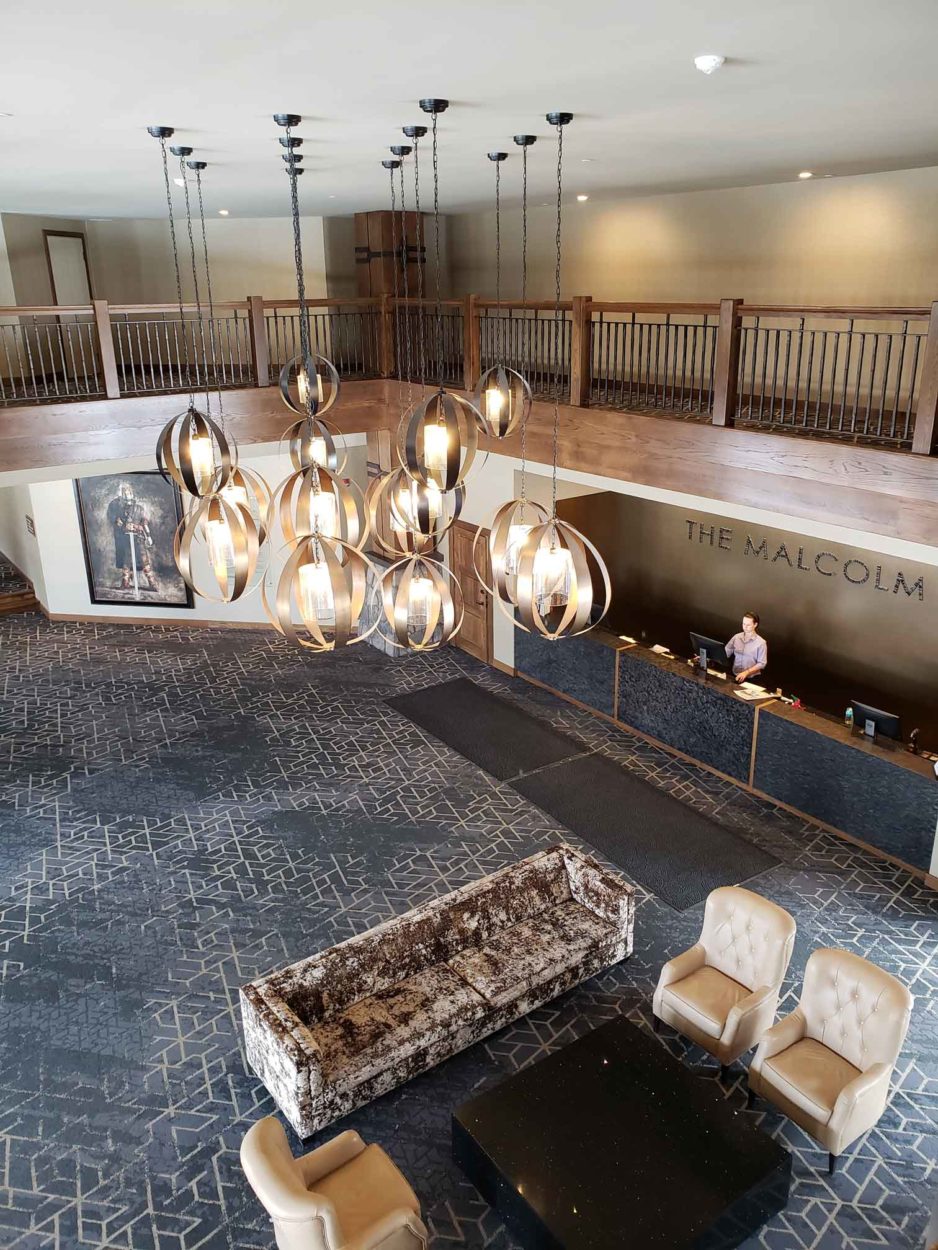 Walking into the grand Malcolm Hotel, Canmore's only 4-star luxury hotel, I was instantly struck by the size of the place. It's huge! The opening lobby stretches two levels and continues as far as the eye can see in either direction. Large, comfortable couches and chairs surround windows and fireplaces to create comfortable nooks for socializing and lounging.
A large portrait of Malcolm III, King of Scotland from 1058 to 1093, hangs in this lobby along with a story about why he's so important to the area and to this hotel. Short version: Malcolm was the Ceann Mor, or Great Leader and Great Head (of state) in Scotland. He's the namesake for Canmore (get it? Ceann Mor – Canmore!) His title is also the reason why there's a giant head statue on Canmore's Main Street.
The Malcolm Hotel is big and beautiful in every way possible. The hotel features reflect the large-scale grandeur of a modern castle. Their gym is a large space with huge windows and panoramic mountain views. There are two separate areas, one with cardio equipment and one with weights, resistance machines and general workout accessories. The outdoor pool and hot tubs are temperature controlled and open all year round. The pool deck is surrounded by mountain vistas and is bathed with the soothing sounds of the nearby murmuring creek. Large deck chairs ensure this is a place to relax and enjoy!
The rooms are spacious and reflective of their Scottish castle heritage. Wood accents, sliding doors, huge bathrooms with stand-up showers and soaker tubs, and stellar mountain views from every window are just a few of the amenities at this grand hotel.
The Stirling Lounge is open to the public, with a licensed hallway and patio for those who want to exit the lounge and enjoy a beverage while taking in the mountain views. The Stirling Grill offers a fine dining experience, with locally sourced ingredients and a focus on creative dishes.
The Malcolm also has conference spaces for all events, large and small. Secluded areas, including a private patio, offer stunning views and quiet rooms allow for privacy and productivity. They also host weddings. Reserve ahead to ensure availability.
With potential programs on the way to enhance guest experience, the Malcolm Hotel is sure to live up to its reputation as a grand, modern luxury castle in the heart of Canmore.