4 Ways to Get Outside and Play this Winter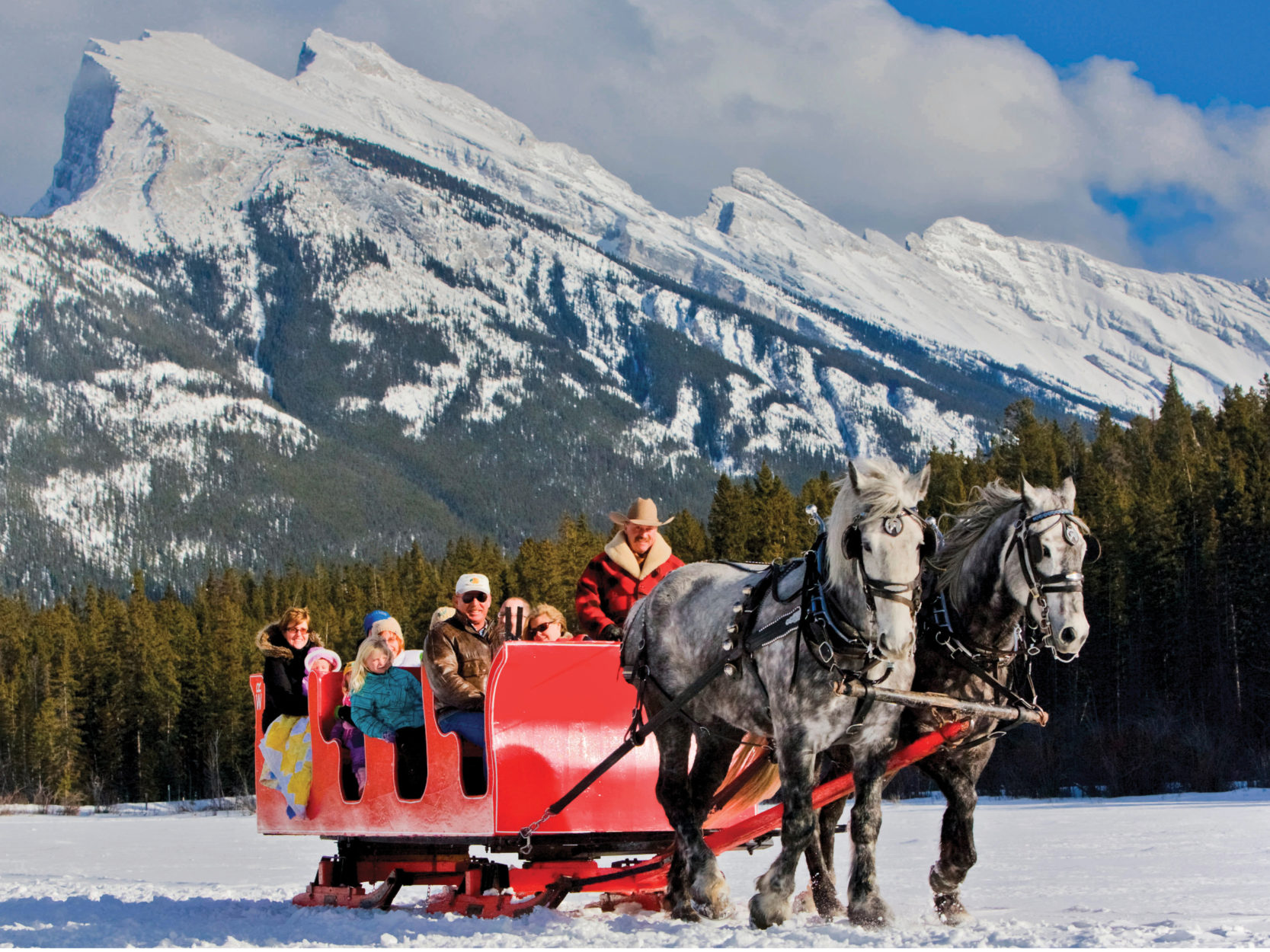 Sleigh Ride in Banff by Paul Zizka
Winter sucks. Don't get stuck indoors all season! Here are four great ways to get outside and play so you can make the most of the winter months.
1. Sleigh Rides
Sleigh rides combine the beauty of the mountains with the comfort of snuggling under a warm blanket. Whether it's a large sleigh being pulled by a huge team or an intimate cutter with single horse, sleigh rides allow people to connect with nature up close. Wildlife such as elk and coyotes are often seen and, of course, there's the draw of the horses. "I do it because I love the horses," says Mike Beerwald of Banff Trail Riders, who says people also feel a connection with the animals.
Sleigh rides are fun for people of all ages and abilities and are therefore popular with families. Lacey Caldas of Brewster Adventures in Lake Louise says, "This is an activity everyone can do, from little babies up to great grandparents." For people with disabilities, sleigh rides open up mountain views that might be difficult to access. Caldas says, "People might not be able to see the end of the lake or take part in other activities. Sleigh rides allow them to experience the area's beauty."
Far from their roots as a means of transportation, sleighs still have the nostalgia of days gone by. "It allows families to go back in time and experience what it was like before cars," says Beerwald. "People who don't see snow every year get to experience what they see in the movies." Caldas says sleigh rides bring "a Christmas card to life" with stunning views at the end of the lake. Caldas sums up the beauty of sleigh rides: "There is no better way to spend time together than drinking in the beauty of the sparkling snow and blue sky while bundled beneath a blanket on a horse drawn sleigh!"
2. Dog Sledding
The relationship between dogs and humans in the frigid north has spanned approximately 4,000 years, according to archaeological evidence. Originally used by First Nations, dogsledding gained popularity as a form of transportation in the late 1800s with the Yukon gold rush. Prospectors used dogsleds to navigate the northern landscapes and move their product, while the Royal Canadian Mounted Police used dog teams to patrol the region.
Today, dogsledding is a fun winter activity and a unique experience for anyone looking to get outside and play. Aaron Brown of Snowy Owl Dog Tours in Canmore says dogsledding is "a wonderful way to be outdoors and share the interaction with animals." This family friendly activity requires no previous experience and people of all ages and abilities can take part. Cold Fire Creek Dogsledding near Jasper claims, "You can participate as much or as little as you like!" Learn to drive the team alongside a professional or relax in the sled and enjoy the scenery. It's often people's first time when they sign up for a dogsledding adventure, but many come back for longer trips.
Everyone who tries dogsledding says, "It's all about the dogs!" People form a special bond with the dogs, which makes the experience so unique. Dawn Donaldson of Mad Dogs and Englishmen near Canmore says, "We encourage clients to interact with the dogs from start to finish. They appreciate what the dogs do, and the dogs feel good about their jobs."
3. Snowshoeing
Snowshoeing is a great way to get outside with the whole family. It involves minimal equipment and little to no experience. Snowshoeing requires some mobility, but it's not just for athletes. Dennis Breyman of White Mountain Adventures in Banff says, "No experience is needed! Anyone who can walk a couple of kilometres on a flat trail can do this." The slower pace also makes it easier to stay together as a family. This adds a social aspect to snowshoeing that other winter activities might not offer. Paula Beauchamp, guide and lifetime local who runs Walks and Talks Jasper, says she often has families join her on snowshoes. She has equipment small enough for a six-year-old.
Snowshoeing allows people to drink in the beauty of the mountains. "There is nothing better than the quiet sound of snowshoes on the soft powder snow," says Beauchamp. She adds that snowshoeing connects people to the landscape in a way they might not experience at a faster pace. Breyman agrees, "Snowshoeing allows you to appreciate the environment." He also says snowshoeing allows people to "find solitude and reconnect with themselves."
Snowshoe adventures range from a pleasant walk on flat terrain to intense, multi-day backcountry expeditions. Jenna Nodding of Get Outside Adventures in Canmore says, "I like that it opens up avenues for more people. People with knee injuries or other lower body injuries can access the backcountry." Breyman says White Mountain Adventures offers options with a snow cat so that people can access terrain "miles away from the nearest human structure." This type of tour makes the backcountry available for people who otherwise might not consider such an excursion.
Check out our snowshoeing experience with White Mountain Adventures. We had fun, and we learned about avalanche control!
4. Fat biking
Fat bikes are specialty off-road bicycles with oversized rims and tires designed to ride on the snow. They have large frames and are geared for winter conditions. With a fat bike, people can cross terrain that is otherwise impossible on a mountain bike. Their unique design allows people to get outside and play in winter.
Fat biking began with mountain cyclists looking to extend their season. Now, it appeals to anyone who wants to spend time outside. Tyson Podruzny of Rebound Cycle in Canmore says fat biking experienced a boom, and now it's here to stay. "Everybody gets hooked," says Podruzny, "It's not high-intensity and not intimidating." Fat bikes are more stable than their summer counterparts, so even if people don't love cycling, they can still enjoy fat biking.
Fat biking doesn't require much equipment and also doesn't involve lots of travel to enjoy. Jay Calabas of Bicycle Café in Canmore likes that fat biking is available to everyone, at any time. "You can just get out your front door and go," Calabas says. "It takes a chunk of the day to travel to the ski hill. But if you only have an hour to be outside, you can take your fat bike for an hour." Families can enjoy time together outdoors with minimal planning and pre-purchasing. Many stores across the Rocky Mountains rent fat bikes and some outfitters offer organized rides and guided tours.
Frosty's Fat Bike Race series is a popular event at the Jasper in January winter festival. The event attracts both professionals and amateurs and it includes multiple races over three days. There's a cross-country race, a charity ride and an endurance race that starts before dawn by Pyramid Lake. All races have vary in distance and difficulty, so all levels of rider can participate.